Monday, July 26th, 2010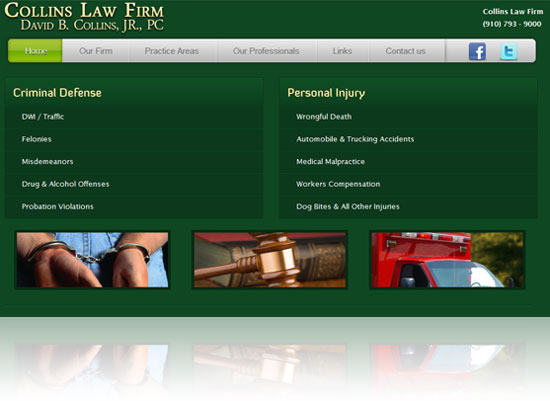 Venuecom and Impulse Web Designs teamed up to redesign www.attydc.com, the website for Wilmington, NC Lawyer, Attorney David Collins.  The client's original website was designed from a phone book ad from six or more years ago.  Obviously, styles have changed since then and our first mockup was much more modern; a little too modern for Mr. Collins, who wanted to update the look, but keep it familiar.
The challenge was this: the existing website already ranked at the top of Google for the search term Wilmington NC lawyer, but it was not converting, so one of the points we emphasized in preparing this project was that the look of the site needed to be modernized and more engaging in order to hold the attention of visitors and thereby convert more traffic into leads.
Collins was pleased with the second mockup by designer Travis Ray.  We feel he designer tasked with this challenge did a great job of meshing the old, outdated look with a more modern, pleasing style in the second mockup.
In addition to aesthetic updates, over 200 unique pages were added to the site to help search engines index key service areas and locations targeted by the client.  Links to the client's Twitter and Facebook accounts were also added and a WordPress blog is slated to appear soon in order to increase the site's social media presence.
Share on Facebook
Share on Facebook