Worthy of the Buzz
Written by Zach on Wednesday, September 8th, 2010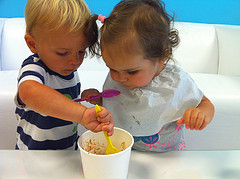 If you were in Wilmington, NC for the summer of 2010, you probably heard about The Fuzzy Peach, the most talked-about new eatery in town.
The Fuzzy Peach was the brainchild of three recent UNCW grads.  It's a simple concept- you get a bowl, fill it up with whatever kind of frozen yogurt you want, load it up with all the crazy toppings your heart desires and pay for it based on how much it weighs.  We've been a couple times and really enjoyed it.  My one-year-old girl (seen here sharing some froyo with a friend) particularly loves it.
The first time we went the wife and I were planning on taking some friends of ours from out of town, and before they arrived I wanted to see what the store hours were so I took a minute to look up their website.  I was surprised by what I saw.  Here was the most talked about new place to go in town, and the site appeared to be thrown together with a .Mac account (seen above).  That's all well and good, but a place with buzz like that needed a buzz-worthy website, so I decided to suggest that to them in an email.  I'm not usually one to make cold calls, but I figured there was nothing to lose.
A couple weeks went by and I didn't really think anything of it, but one day I finally got a response.  They were interested in talking to us about a redesign, so I had Travis give them a call and, long story short, they had a few meetings and today they gave us a deposit.  I'm pleased to announce that Impulse and Venuecom are going to be updating The Fuzzy Peach's website to give them a site worthy of their buzz!
Tags: sales, the fuzzy peach, travis ray, Web Design, zach dotsey